Gate Repair
Back To Our Services
Your automatic gate needs several mechanical and electronic parts to properly function. If any of these were to break and fail, then the entire system can be compromised. When this happens, it will no longer be able to provide safety, privacy and convenience. In this article you'll read more about the different parts that are prone to fail.
The Wheels Turn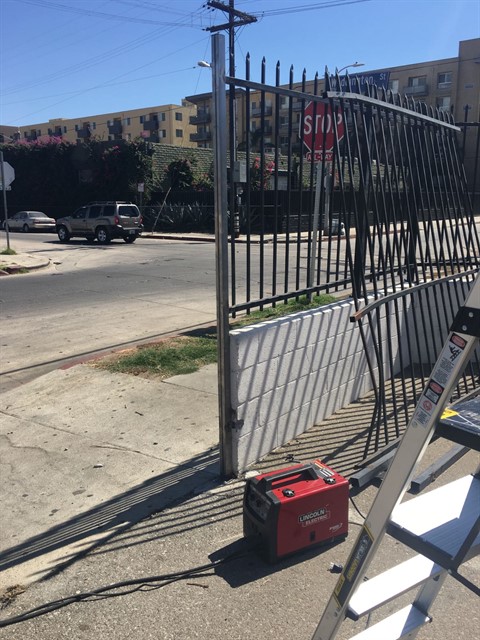 Something as heavy as a large door made of metal or wood needs some sort of support when it is opened. The hinges and the actuators are not enough. This is why wheels were incorporated into the overall design. These little guys are able to effectively carry the weight of the door as it is opened or closed. Without them, the actuators or the hinges will bear the brunt of the weight, creating a situation that's conducive to more wear and tear. These parts might seem strong, but when their time comes – contact our professionals for gate repair service to have them replaced with matching new ones.
Wood Deterioration and Its Effects
Wood is a very tough material, that's why in the course of human history it has been used to build everything. When it's used to build a gate, the result is a secure barricade with an undeniably rural charm. Even when it's well built, by its very nature, wood is still prone to rot. When rot takes hold of a plank or post, you need to get professional rotten gate repair services to stop the rot. If you don't do this, the entire gate may fall to pieces.
Swing Gate Repair
The swing gate hinges are some of the more overworked parts of any setup. They generally bear a large amount of weight whether in the open or close position. With wooden posts, the forces that the hinges exert may prove to be too much especially if the posts themselves are a little rotten. This leads to the hinges getting pulled out, thereby dropping the gate.
Fixing Gates of All Types!
These are some of the ways that gates break. If you observe yours having these signs, then call us up at Garage Door Repair Bremerton to get professional repair services.
To learn all about who we are and what we do, feel free to checkout our website.